Transforming old spaces into beautiful new places.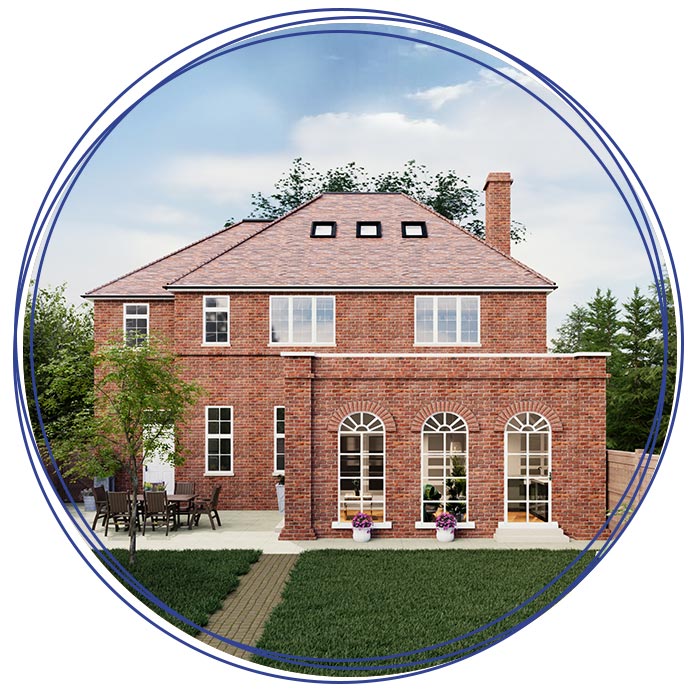 Packages
We offer three standard packages with varying levels of service and finish, meaning we can work with you to achieve your dreams, without breaking your budget.
Basic

Do you have a simple project in mind? Our Basic option includes your initial survey, plans and elevations and assistance with your planning and building regulations submissions in a package that's budget friendly without sacrificing safety, communication or quality.

Standard

Our standard package is our most popular option, including all the basic services plus additional drawings and plans, 3D modelling, amendments and modifications, and a second site visit/inspection - peace of mind for you and your project.

Premium

Looking for another level of service? Our Premium package includes interior and exterior 3D modelling, electrical, structural and construction plans, highly detailed drawings and the tools to project manage the development. We provide various additional site-visits and inspections throughout the project to assure quality control.

Planning permission

Part measured survey

Full measured survey

Existing plans

Proposed plans

Elevations

Roof plan

Landscape design

Request a quote

Variations & alternative designs

External 3D modelling

Internal 3D modelling

Planning application submission

Planning application appeal

Lawful development certification

Design & access statement

Site & location map

£24

£24

Prints for client & contractors

Additional site visits / inspections

X1

X3

Travel expenses

45p p/m

45p p/m

45p p/m

Amendments / alterations / modifications

Communication with design team

1 hour

Communication with case officer

£25 per hour

Floor meterage schedule

Building control

Building control submission

Building regulations annotation

Sectional drawing(s)

Foundations design & plan

Drainage design & plan

Electrical design & plan

Specification & regulations

Construction drawings

Joists & structural plan

Material quantity schedule(s)

RAD schedule

3D constuction details

Windows & door schedule

Construction duration timeline

Project management of design

Testimonials
"Hayden and the team were really lovely and helpful. He had some great ideas about what could be done within my budget and helped me make an informed decision. Definitely recommend HAC."
"Absolute amazing, I have the home that I've always wanted with the space required for my family. Everyone that completed the work were friendly and hard working. Highly recommend to anyone looking for work done to their property. I would use them again for future build and design work."
"Hayden and the team were helpful and friendly throughout. They were always available for queried, and were very knowledgeable about local planning regulations. They listened to what we wanted and drew up very good plans based on our request, in a timely manner. We are very pleased with the service provided and would highly recommend."
"Hayden and the team were supportive throughout our Building Regulations Application, making a complicated process as painless and straightforward as possible. They frequently went beyond the call of duty and were impeccably patient despite our best efforts! It was a delight to work with them and wouldn't hesitate to recommend them."
"HAC were recommended to me on a local Facebook group. I found them to be extremely professional, informative and very approachable. We were guided through the planning process, kept up to date with developments and were able to view the proposed outcome in an innovative way."
HAC Design & Build were great from start to finish. Right from the planning stage, communication was very good and any questions I had were answered quickly. The guys worked hard everyday, were very quick, tidy and can't be faulted. They kept me informed through each stage of the project and would 100% recommend them.
"We used HAC for the initial planning permission process. They are very prompt with their work and very accommodating to our changing ideas etc. and were honest with what we could and couldn't have. The application of the planning permission was made almost straight away once the final design was agreed on. Planning permission took a while due to COVID-19 but no fault of HAC and the application went straight through without any questions which was brilliant. Would definitely recommend them and their prices were very competitive to others."
"The HAC Designs Team is highly recommended. Professional, efficient and cost effective."
Quick Quote
The following fee proposal is based on our Standard package of services offered, to find out what other packages are available see the packages section above.
Let's talk, get in touch.
There's always another way.
Wyvols Court, Basingstoke Road
Swallowfield
Reading
Berkshire
RG7 1WY
t: 0118 373 4003
e: info@hac-designs.co.uk